We went out with some of our training buddies to watch the Tennessee game last night.
William was excited to get a William and Mary shirt!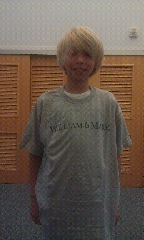 The boys had airport day at school yesterday, where they practiced presenting passports, answering questions about where we are going and why, etc. They made fake passports. Not sure that the strictest of immigration agents could keep a straight face if they had to examine Daniel's.

We love Cook Out Burger!

Each Sunday night we have cross-cultural worship and last week was European night. Zack and I led a worship song in Norwegian.